We are pleased to announce that Syncplay 1.6.3 will adopt our new logo for Syncplay!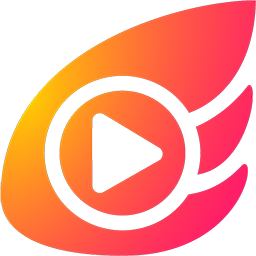 The old Syncplay logo (left) alongside its replacement (right)
According to the new logo's author Catlinman:
"My goal in mind was to create a new version of the logo that embraces a more modern and clean design while retaining and accentuating the original wing design. Furthermore I wanted to include some sort of play symbol to give the whole design a much easier visual understanding. One of the challenges I faced was that the logo had to work at even tiny resolutions of 16×16 pixels while also looking good with large word mark. The final design incorporates all of this!"
As long-time followers of the #Syncplay IRC channel can attest, Catlinman put in a lot of work not just creating the initial logo but also working with Syncplay developers and users to respond to feedback by generating alternative designs and explaining his design decisions.
See Catlinman's Imgur post for more about the evolution of the new logo which includes some of the alternative designs he produced as part of our discussions. You can also see some other mock-ups from the design process as part of our Facebook post from February 2018. A big thanks to him for all his work on this!
We did explore including additional elements in the logo, but in the end this hampered the ability of the logo to look the same at different sizes so in the end we decided to keep it simple. The addition of the play logo provides a clearer link to our core function, which is supporting people to play media. While the logo has been modernised we have retained the concept of the wing design from our original logo. Do the wings represent Hermes, known to the Greeks as a god of synchronicity and to the Romans as a god of communication and information, or is it simply an old-school anime reference? That one, dear users, we will leave open to interpretation…
The fact that the final design ended up looking a lot like the initial proposal is a testament to Catlinman's good design instincts, and we hope that even if you find the change to be a shock that it will grow on you over time. We are also grateful to Devon who helped us explore some other logo options and to everyone who provided feedback on the logo as it was being developed.